Educational videos, web seminars & more.
Enjoy Art of Riding content, always and everywhere. Learning flexibly.
Learn all about the fascination of "the Art of Riding" from all over the world, at any time of day and at your own pace.

Content from different categories:

Riding - Groundwork - Horsemanship - Health - Science - Biomechanics - Seat training and many other topics
Learn in the online horse academy and with the help of selected horse trainers, therapists, scientists and veterinarians, learn different ways to improve the well-being of your horse.

Let yourself be inspired and gain valuable information for a better handling of your horse through instructional videos and live stream seminars.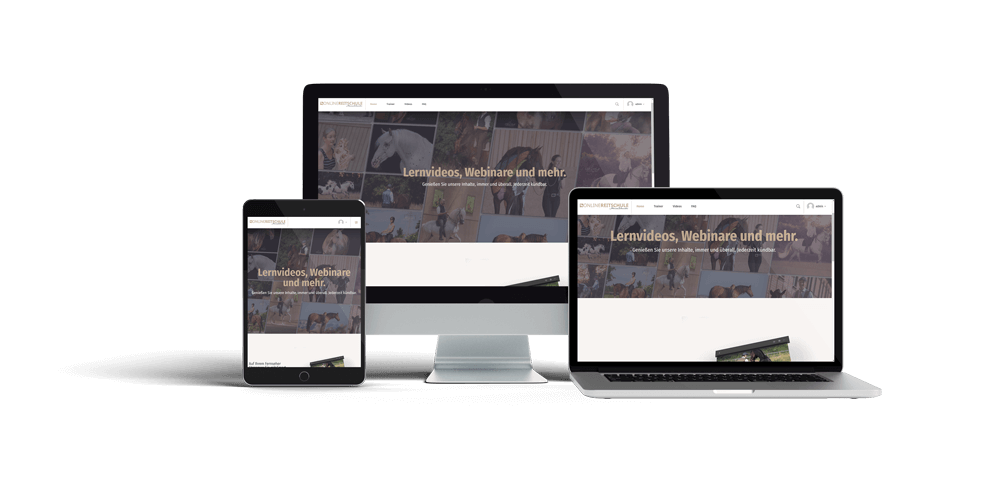 On all devices!
Watch unlimited educational videos and more on your smartphone, tablet and laptop.
Sign up today and start right away!
Monthly subscription
Getting to know the offer
New videos every month
1 month access to all educational videos in the subscription area
Interesting discounts on further offers of the online riding school
Automatic renewal
Annual subscription
Premium Member: Intensive further training with price advantage
New videos every month
Access to all educational videos in the subscription area
Premium Videos: Access to all short videos with training ideas & tips for everyday life
free access to the web seminars with Bettina Biolik
Interesting discounts on further offers of the online riding school
Automatic renewal
over 250 € per year saved
save over 250€
Web seminars
Can be booked individually without membership
Prices can be seen under Web seminars
Web seminars with different topics
Seminars as live stream
Single booking without automatic renewal
Frequently asked questions